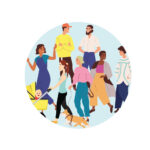 Quite simply Walking & Talking.
An opportunity to connect and chat whilst getting some fresh air and gentle exercise.  Babies in pushchairs and/or dogs welcome for a walk through the beautiful Versoix woods.
Walk takes 60-90 minutes, with the option to chat over a hot drink afterwards – there might even be a biscuit – back at the Cabane.
We walk whatever the weather, so remember to dress for the conditions.  Not sure if we are walking this week? Check out our Insta or Facebook stories for updates.
Free parking at Chemin des douves, off Route de Sauverny, Versoix.  

Nearest bus stop:  Stand de tir – TPG route 55
Thinking of joining us?  Email [email protected] so we know who to expect.